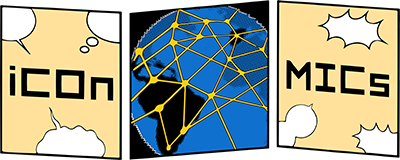 CFP Training School Newcastle 7-9 Sept
We welcome applications for the Cultural Legacy of Iberian and Latin American Comics Training School, taking place at Newcastle University (UK), 7-9 September 2022. The Training School is organized by the COST Action https://www.cost.eu iCOn-MICs – Investigation on Comics and Graphic Novels in the Iberian Cultural Area (CA19119).
The iCOn-MICs Action is an international network of researchers, professionals, and end-users of comics, aiming to advance scholarship on the study of Iberian and Latin American comics; to promote authors and disseminate works; to facilitate access to scholarly works; and to improve practices in comics, as well as their use in educational contexts.
The Cultural Legacy of Iberian and Latin American Comics Training School is a three-day training event with lectures, roundtables, hands-on sessions and cultural activities, such as an animated film screening and a visit to a local zine archive. which will gather comics scholars, curators and librarians to discuss the challenges of developing research projects involving comics archival work; to assess cultural policies on the preservation and acquisition of Iberian and Latin American comics; and to reflect on inclusivity and representation of comics written by women artists and in minority languages.
Interested participants please submit a short biographical note (250 words) and an abstract in English, Spanish or Portuguese (300 words) to: icon-mics@uca.fr, jorge.catala-carrasco@ncl.ac.uk and/or maya.quaianni@gmail.com.
Accepted trainees will share and discuss a working document (2,500w to a max 4,000w), on these or other closely related areas: ephemerality; magazines and daily press; diaspora; exile; private collections; conservation of comics; conflict; women authorship; memoirs; comics pioneers; comics and cultural canon; comics in minority languages (Catalan, Basque, Galician).
iCOn-MICs will provide financial support covering for travel and accommodation expenses, paid as reimbursements, to a limited number of accepted applicants. Please indicate if you require funding and why. Selection will be based on the candidates' CV and COST's inclusivity rules. Expressions of interest must be submitted by 22 June 2022 4.30pm (GMT).
List of confirmed trainers:
Inmaculada Corcho
Elena Masarah (online)
Pedro Moura
Christoph Müller (online)
Álvaro Pons
James Scorer (online)
Keynote Speaker: Paul Gravett
Organization: Jorge Catalá, Maya Quaianni, Diana Castilleja, Diego Espiña Barros, Agatha Mohring, Mariano Paz, Kiko Sáez de Adana.